Kualoa Ranch Horseback Tours Reviews and Booking
1 Hour Tour and 2 Hour Tour available
Hawaii Polo Trail Ride is one of very few options available on Oahu to ride horses along the beach.  It's illegal to ride horses on the beach, however the property line is right up against the beach and it capitalize on the awesome location it has.
Here are their horseback riding options:
| Option | Pricing | Age Limit | Weight Limit |
| --- | --- | --- | --- |
| 1 Hour Ride | $84.95 | 10 and up | 230lbs / 104kg |
| 2 Hour Ride | $129.95 | 10 and up | 230lbs / 104kg |

Here is the map of the location.  Nestled in the North East corner of Oahu, you would want to take some time and visit other tour spots along the way.  It is a beautiful scenic drive and most likely you will want to pass through the H3 highway that has been voted as one of the most beautiful interstate highway and enjoy the spectacular views along the way.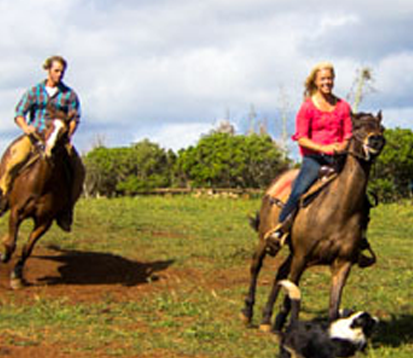 Jurassic Park Horseback Ride
Program Highlights
Kualoa Ranch is the place the movie Jurassic Park was filmed, so you will have some added fun when you were going on the horseback ride at the place.

Because of its popularity tours are often sold out, so if you are thinking of going on the tour, you will want to plan ahead.

One thing I don't like about this place is that it's a very well run tourist destination. So much so that you feel like you are being churned through. I am not saying that you will have a bad experience, but what I am saying is that you might not get an intimately personal experience. Nevertheless, I do enjoy my visits to Kualoa Ranch that we make. The views that you get by going deeper into the valley is something that just can't be recreated in other places, because of all the developments. But, either with a ATV ride or on a horseback, you can go deep into the valley and look out in to the ocean, and it's one of few chances you can get a view of what you see on the Hawaii postcards.