This is as close to the beach we can ride horses.  Come join us on the beautiful North Shore of Oahu with the best rated horseback riding experience on Oahu.
Learn More
If you want to go deeper in to the valley, then this is what you are looking for.  With scenic riding options, you will enjoy every step, every gallop.  Riding options available for advanced riders, too.
Learn More
Experience Oahu Like it's Meant to
Unlike your typical landlocked ranch trail rides, experience unforgettable horseback rides along the breathtaking coast of Oahu's North Shore with our expert guides! This amazing opportunity to ride the finest polo ponies offers an experience not found anywhere else in Hawaii!
Whether you want to enjoy the scenery or want to learn the art of Polo, we have a package that's perfect for you. Join us and enjoy the scenic beauty of oceanfront horseback rides along Oahu's famous North Shore!
If you want to experience Hawaii as a Paniolo (Hawaiian Cowboy), then Gunstock Ranch is the right place for you.
We have horseback rides suitable for folks of all skill levels. If you are looking for a true Hawaiian experience, join us for a beautiful tour of Hawaii's natural elegance and peace. From our Keiki Rides to our Advanced Rides, the beauty of Hawaii is for everyone to experience. All rides must be booked at least 3 hours in advance.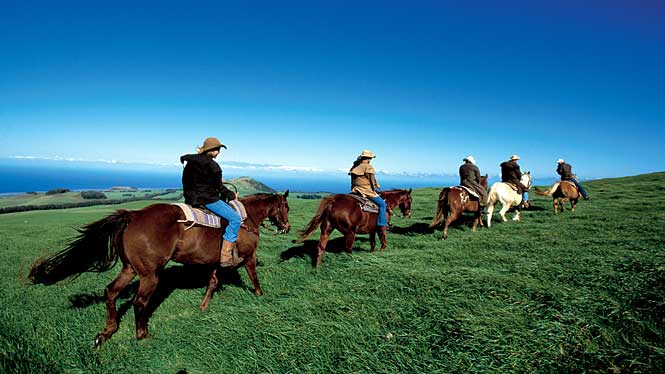 Lessons
If you are looking go on a trail ride, but also want to learn horseback riding - even as a complete beginner - this is a great choice.
Rides!
You want to enjoy riding on the most beautiful trails and go on rides voted as best rides with certificate of excellence - you can book it right here.